---
The Word of the CEO
---
In a competitive world, you need to give yourself the means of exceeding yourself. Going beyond your expectations and target. So you can get one step ahead.
In recent studies, 58% of CEOs and 61% of CEOs declare their N°1 priority is cost reduction. Financial crisis or a shift in the market have put a lot of pressure on companies.
Since 2008, we see companies getting stuck in a Vicious circle of cost cutting or struggling to finance their growth projects.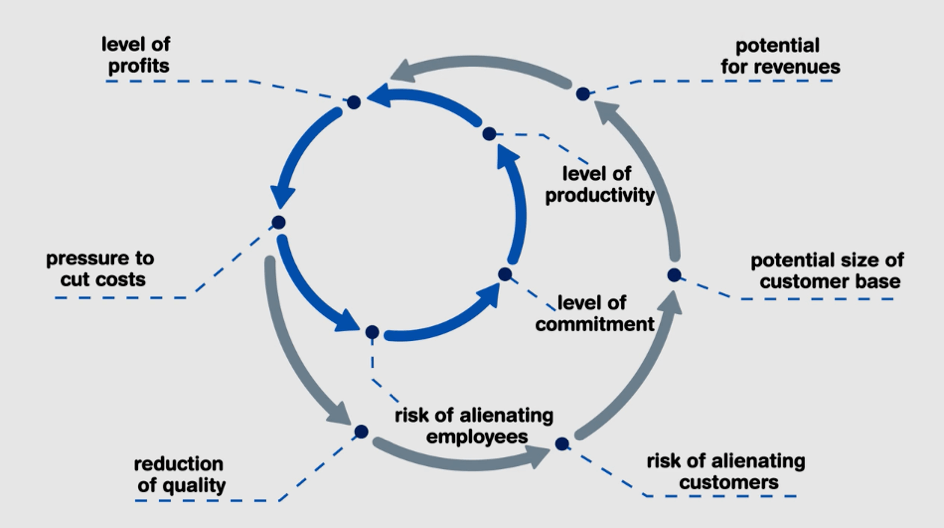 Companies face several barriers to better purchasing:
Unclear vision of their cost structure
Lack of time
Lack of independence
Lack of incentives & recognition
Too much focus on prices
Wrong communication towards their employees
Go back to value creation and turn your costs into profits. Smart cost efficiency programs can fuel your success and help you gain or maintain a lead in your industry.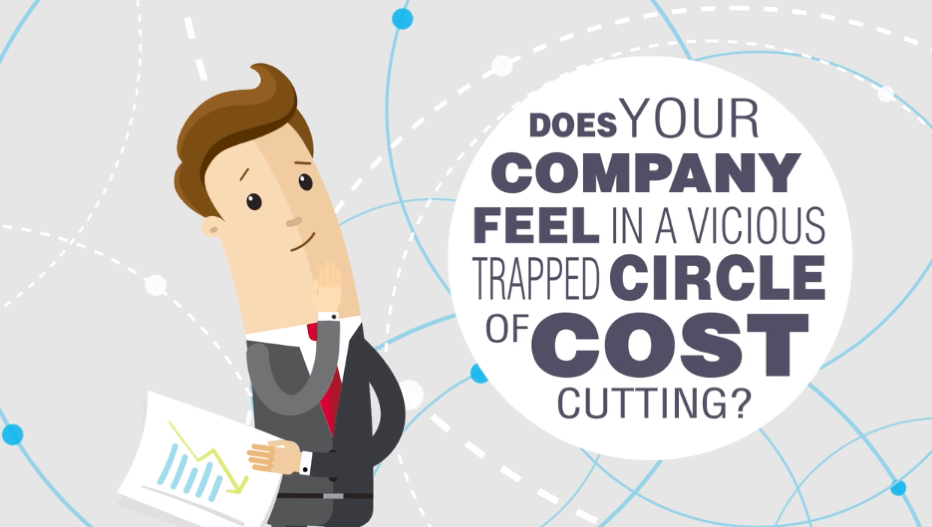 Lien vidéo : https://vimeo.com/22327989
GO.BEYOND.NOW
Florent Hainaut
---
---
Bridgewater expands in France & The Netherlands !
---
In July, we wanted to see Europe from the top before launching our European expansion. Mont Blanc Summit (4810m)
#Bridgewater #GoBeyondNow #TopofEurope #EuropeanExpansion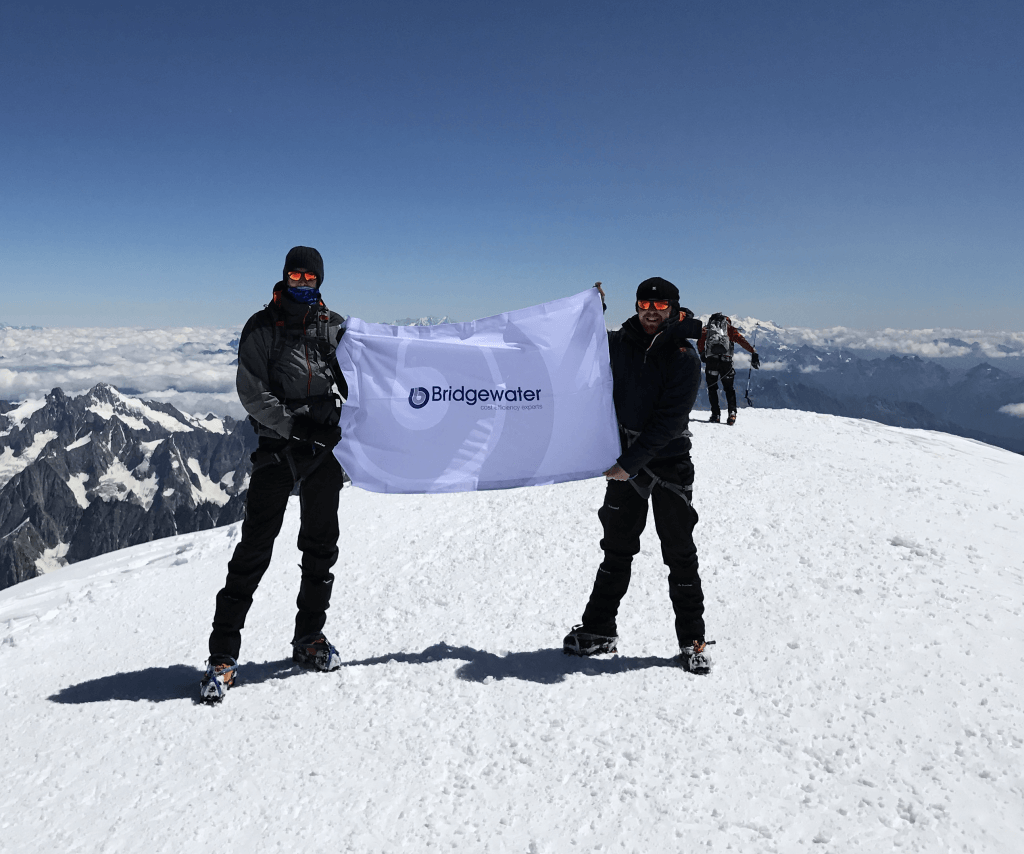 And since last August, we proudly opened two new locations in France and in the Netherlands.
Bridgewater France
Rue Anatole de la Forge, 9, 75017 Paris
France
TEL : +33(0)1 84 88 48 93
Bridgewater Netherlands
Esdoornlaan, 10, 2161 MR Lisse
Netherlands
TEL : +31(0)20 745 00 22
Should you know any Company in these countries that would need our expertise (reduction and optimisation of non strategic costs), please do not hesitate to inform them !
---
---
Two Awards : Réseau entreprendre « Growth Program » & Lead-In « Young Leaders – Inspiring Mentors »
---
Bridgewater was nominated at both "Réseau Entreprendre" and Lead-In Program !
As Bridgewater goes European, we are proud to announce our nomination at both "Réseau Entreprendre" and Lead-In program, two dynamic business networks sustaining entrepreneurship in Belgium and across Europe.
Among dozens of participants, and thanks to our track record and our strong ambition to continue to grow at a fast pace Bridgewater has both been nominated at Réseau Entreprendre and Lead-In Program, confirming the strong willingness of the company to accelerate its development.
Those programs will be the opportunity to be advised by business experts, to get inspired by visionary leaders and to develop our network.
Gilles Ledure, General Manager at Flagey (the famous Brussels culture house devoted to music and the moving image), and Lead In mentor will coach Florent Hainaut and will bring his expertise in rallying and convincing stakeholders from different horizons, which is also a big challenge when developing a new consulting business.
Réseau Entreprendre is the first international network of entrepreneurial mentoring gathering 10,000 entrepreneurs in 10 countries.
Lead-In community and network has a global and pluralistic approach to inspiring leaders by sharing innovative and pragmatic insights and initiatives, inspiring ideas and concepts.
---
---
Objective achieved : 1 Million Savings
---
Print Project at a European Retail Group
The Group did not have the desired level of transparency on their printing expenses, as there were multiple third parties that were responsible for the printing activities. This situation also had a negative impact on the negotiation power that the Group had towards it suppliers. Within the Group, there was no standardized way of working nor were there synergies achieved. The Group had multiple formats and designs linked to the weekly folders that were distributed across different countries.
Bridgewater's benchmarking tool was used to select a shortlist of suppliers that would have the required level of maturity on different important parameters:
(1)     Shortlist only suppliers who have an ensured financial health
(2)     Identify the "market leaders" amongst the suppliers who can provide advice on the best practises in the market
(3)     Select a partner that could potentially fulfil the entire scope of different printing formats
After an extensive analysis by Bridgewater, the Company received several recommendations to improve their current situation. There were improvements linked to the financial situation and to the operational way of working:
(1)     Implementation a standardize way of working within the Group structure, leading to benefits on the negotiated price
(2)     An external analysis of the design templates lead to an optimization of the different formats used by the Group, yielding both financial improvements for the Group and operational improvements for the Supplier.
Concretely, the client will achieve 15% savings representing more than 1 million € per year on his printing budget. As part of its digital transformation, the client has launched a brand new e-commerce site with these savings.
---
---
Upcoming trainings and workshop:
---
Bridgewater is hosting the following events during the upcoming weeks. On both the 26th of October and November 9th you'll be able to gain more insight into how, what, when, why about cost optimisations and the business implications that come with it.
Make sure not to miss out on these highly interesting events and subscribe below!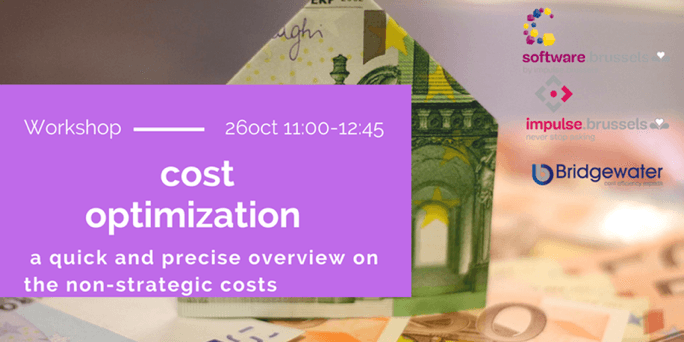 Workshop Cost Optimization -> inscriptions
09/11/2017 : Finance Builders
– http://financebuilders.eu/events-1/
---
---
Bridgewater is Hiring: Procurement Superstar – Senior Manager & High Potential – Business Analyst
---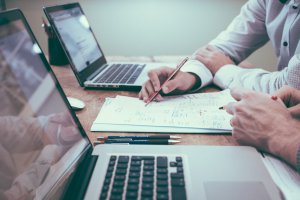 Bridgewater Consulting is a Brussels based office which has been created in 2009 and who is operating internationally. We are specialized in value creation and cost optimization targeting large companies.
Our innovation mindset and our No Cure No Pay model are key to our success and clearly differentiate ourselves in the consulting practice. Above all, we are committed to deliver results beyond client's expectations and have developed an obsession for success. "Go. Beyond. Now." is our tagline.
SENIOR MANAGER
Our firm is growing quickly, and we are therefore looking for a Senior Manager who will take the leadership of the project management team and will be responsible for coordinating and managing projects, and for ensuring that they are delivered on time, within budget and to the customer's expectations.
This high-level profile will combine procurement, management and business development skills and will be part of the management committee of the company with potential access to partnership.
Project Management
Developing project scopes and objectives (a.o. SMART objectives such as savings targets and time budget)
Developing a detailed project plan to track progress
Managing the day-to-day operational aspects of a project
Being responsible for all aspects of a project from the initiation stage through to implementation and handover to the client
Managing project budgets and resources (including coordinating holiday planning)
Ensuring that all relevant processes are defined, implementedand applied on projects
Setting the standards and methodology to be used in a project, a.o. PM Guidebookupdate, Knowledge base, standard methodologies and data collection templates for all categories
Taking responsibility of projects through their entire lifecycle and implementing permanent project review
Submitting progress reports to stakeholders and senior managers
Writing up all project documentation and ensuring the APP (Bridgewater in-house project management software) is properly updated (complete and accurate)
Communicating with stakeholders to clarify the desired outcome of a project
Administering the allocation of jobs and budgets on a project, including regular monitoring of Time Spent KPIon projects
Managing project personnelto achieve project objectives and developing staff skills
People development and satisfaction
Regularly reviewing and analyzing the project scope
Identifying project risks and taking actions regarding the identified risks
Negotiating with suppliers and sub-contractors
Issuing and collecting signed Closing Sheets, ensuring the accurate and complete invoicingto the clients
Client Relationship Management
Managing client expectations and relationship (develop trust and intimacy with the client)
Being commercially minded to identify new opportunities at existing clients
Business Development
Representing the company and identifying new business development opportunities
Practice Leadership
Developing functional/technical/industry/category expertise and take responsibility for one or several fields (o.a. Finance, IT, Marketing, HR, Retail, Banking, Printing, Cleaning, …)
Languages
Ideally Dutch speaking with very good knowledge of French and English
Join the growth by following the link: https://www.linkedin.com/jobs/view/434018564/
---
BUSINESS ANALYST
We are also looking for a Business Analyst to be responsible for operational realization of projects, and ensuring that they are delivered following the agenda set by the manager.
Responsibilities:
Supporting Consultants in the discovery of the underlying business need to be addressed and information related to the product and project requirements, often through conversations with the clients.
Researching, structuring and solving complex analytical problems, often using both standard software packages and bespoke tools developed by Bridgewater
Preparing and managing Requests for Information/Requests for Proposals
Conducting market research, contract compliance reviews and ad-hoc problem solving where appropriate
Performing cost analysis and savings modelling
Preparing and delivering presentation materials (e.g. slides, reports) for stakeholder communication and meetings
Managing/coordinating delivery of one or more projects/ workstreams to deliver client benefits within tightly defined deadlines
Developing and implementing improved processes
Reporting
The Business Analyst will report directly to the Consultant and to the Manager and update the in-house Project Management documents:
Timesheet
Project Sheets
Project Checklist
Skills Development
Business Analysts will have access to traineeship and study material regarding Project Management, Procurement Knowledge, Negotiation and Languages.
Languages
Very good knowledge of Dutch, French and English
Please send your application (cover letter + curriculum vitae) to jobs@bridgewater.be